Directions from Marin County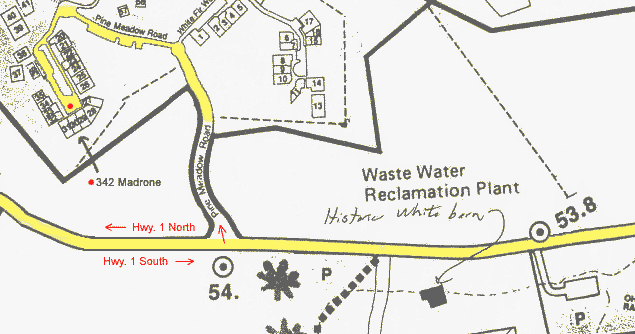 Take Hwy. 101 North through Petaluma to the Penngrove exit. Left at the bottom of the off ramp and over the freeway to Stoney Point Road (first intersection after going over freeway). Right onto Stoney Point Road.
Left onto Pepper Road (head west).
Right onto Walker Road (if you miss Walker, turn right at the "T" intersection ahead onto Valley Ford Road ). Use Caution, Walker Road is narrow.
Right onto Valley Ford Road when Walker Rd. ends. Continue on straight to where Highway 1 joins.
Stay on Hwy 1 through Valley Ford, Bodega Bay, cross the Russian River, stay left to keep on Hwy 1, go through Jenner. You're about an hour away from Sea Ranch.
You enter The Sea Ranch at Milepost 49.72 (Numbers on white vertical signs along the Hwy).
Continue to Milepost 54 and take the right turn off the Hwy onto Pine Meadow Road (see map).
Take the left fork into the forest and the harder left just beyond the first parking area.
Continue straight, going towards the ocean, past the car barn on your left to the end of the cul-de-sac. You have arrived at 342 Madrone Meadow (aka Lot 30). Our entrance is through the gate in the fence. There is an electrical switch on the left post for lighting the gate, path and walkway to the front door. The barn door covers a sliding glass door off the master bedroom, the front door is to the right along the side of the house.
Welcome!